How to Play Blackjack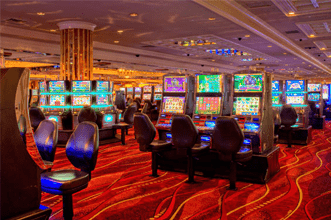 Out of all the online casino games at Atlantic Club Casino, Blackjack, also known as Twenty-one, is perhaps one of the most thrilling and intriguing choice that any player would definitely love to pick. However, just as how it is very entertaining, playing it may prove to be just as challenging especially for those who are beginners in the face of its table. The most ideal choice to make before confronting the dealer of this game is to know how to play (rules) the game and familiarize yourself with every essential information that may help or contribute to your triumphant play. There are many options for strategy in this game and the topnotch professionals can even use a card counting technique to produce the best possible results and decisions.
Blackjack is undeniably participant-friendly and this is because the house edge is naturally less in this game which is also exactly the reason why players are extremely attracted to playing it. The history of the game can be traced from France on 1760 where it was named differently - the Vingt-et-Un. It has also remained popular even during the First World War. Today, it's a game that can be found on all waging establishments, both brick-and-mortar and online establishments.
When you're on the table of Blackjack, you'll notice that the dealer will be kept standing throughout the game while all the players remain seated. The dealer is always on the side of the establishment when you're on a casino, however, on a home-based game, players can take turn to become the dealer. The goal of the game is to get a total card count as close as possible to the number 21 as its name implies, however, the challenge is to never go over that count. You should also learn what the difference between shuffling and cutting is. Taking your time learning different strategies will also greatly help in giving you a better chance at winning each play you make.
The Basic Rules of Blackjack
The rules are pretty straight-forward but you can click here for an in-depth guide on how to play blackjack. The basic premise of blackjack is to get a hand value that is closer to 21 than that of the dealer. You can't go over 21 though. Your hand competes against the dealer only. There are strict rules for that the dealer has to adhere to and they don't really get any decisions to make.
Your cards are dealt face up. The dealer has one card up and one card face down. The value of the cards are:
Ace - 1 or 11
Cards from 2 to 9 have their face values
Face cards, Jack, Queen, and King are all worth 10.
If your hand goes over 21 this is a bust and you lose. When you look at the cards you have been dealt you can hit and get another card. You keep doing this until you are satisfied and the dealer must then reveal their cards.
Different Types of Blackjack
When it comes to playing online, there are lots of variations of the game you can play. These variations all have a different set of rules and different payout rates too. With any of the games, the basic premise remains the same. The number of decks used in the different types of games can vary from one up to eight. Each of the different software providers also has their own range of blackjack games. Below we have some of the most popular online games and a brief description of each.
Classic Blackjack: This is the standard game and uses the standard rules. There is no surrender option available in this game. It uses six 52 card desks and you are allowed to double down on any first two cards. The dealer must stand on any soft 17. If you double down you only receive one additional card. You are allowed to split any pair, but if you split aces you only get one additional card and if you get a 10 value card it doesn't count as a blackjack.
European Blackjack: This variation of the game is played with two decks of cards. The dealer has to stand at on a soft 17, but the dealer can't check for a blackjack. Other differences in this variation are that the dealer's blackjack versus the player's blackjack results in a push. Players can only double down when they have a total of 9, 10, or 11. Players can also double after splitting but no further re-splitting is allowed.
American Blackjack: In this variation you can surrender at the beginning of the game. You can also double down regardless of the value of your card. The dealer has to stand on a soft 17. Other than this the rules are that same as all other games.
Atlantic City Blackjack: This variation is a Microgaming variation and is one that has been designed to replicate the rules and payouts that are popular in land-based casinos around the world. This variant has the fourth lowest house edge in online games and plays with all the standard rules.
Vegas Strip Blackjack: This is perhaps the most common variant when it comes to online blackjack. It has an exceptionally low house edge and uses the stands rules for gameplay.
Pontoon: This is another very popular variant often called Spanish 21. In this game, the dealer's hole cards are both placed face down. This leads to a higher payout for the player if they win. The dealer has to hit on a soft 17 and wins all ties. Players can only stand when there is a total of 15 or more.
Look For Online Bonuses
Finding online bonuses can be tricky because not all bonuses cater to players. There are some online casinos that offer blackjack specific bonuses and these are the better option than the standard welcome bonus. A no deposit blackjack bonus is going to be the best deal as this will allow you to play real money games risk-free.
Before claiming any bonuses though, it is important to understand the terms and conditions. This includes what games are eligible for the bonus, the wagering requirements, and the game contribution percentages. It is important to look and see what games can't be played as well as this can void your bonus and you'll lose any winnings won by playing with your bonus. For example, some casinos place restrictions on the amount you can bet per game. Online blackjack has the lowest house edge and you may find the online casinos tend to decrease its wagering contribution as much as possible. If you can play don't be surprised to see its contribution percentage as low as 8%.
If you are a blackjack player we suggest sticking with bonuses that allow you to play blackjack and have a decent contribution rate of 10% or more. It is worth keeping in mind that different variations may count different towards your wagering requirements too so check this out.
Accredited Online Sites
Now that you know about all the different online blackjack variants and blackjack bonuses, the next step is to find an accredited online site. Not all sites are the same and not all will cater towards your gaming needs. We recommend that you check out this website with the latest online casinos available for blackjack players. You'll find in depth reviews as well as the best bonuses for new and returning players too. You'll even find information on player comps and tournaments where you can win huge cash prizes.